You may be familiar with Joe Ferrini's extensive history of discipleship and mentoring in Northeast Ohio since the mid 1970's and his commitment through his church and such organizations as the Billy Graham Ministries, Campus Crusade for Christ (Cru), FamilyLife Ministries, WCRF/Moody Radio, Promise Keepers and many others. Joe has used a structure of leader discipleship he called 'R2D2', or 'Radical Revolutionary, Dedicated Disciple'…
Cru (Campus Crusade for Christ) has posted within its Adult Discipleship Resources Leadership Development Tools that seek to "help build a disciple into a spiritual leader in order to help build spiritual multiplication movements" to promote the acceleration of the fulfilling of the Great Commission. A link to these resources are found here (click picture to go to the Cru website):
NEWLY UPDATED: Writeable Student PCLD version. STILL FREE!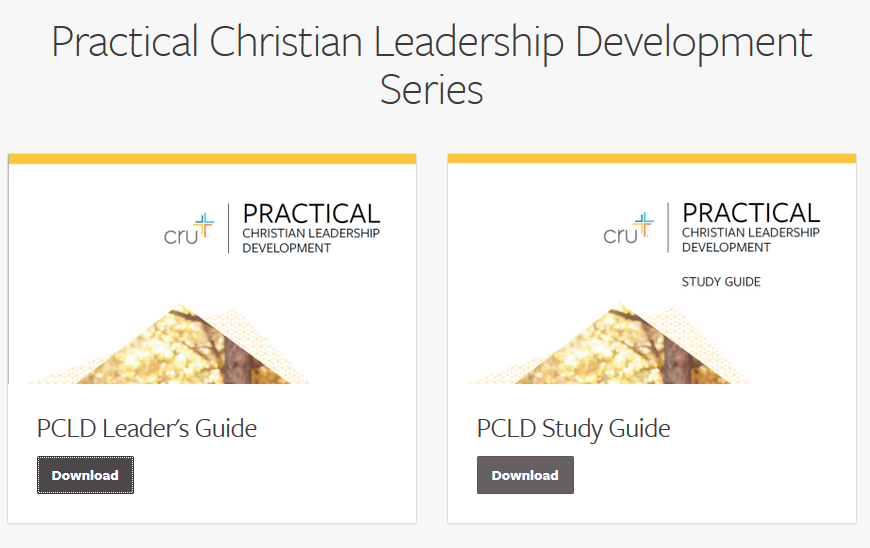 Joe and an incredible team of seasoned disciple makers and excellent communicators have put together a teacher/student Practical Christian Leadership Development training course as part of these resources.
And Jesus came up and spoke to them, saying, "All authority has been given to Me in heaven and on earth. "Go therefore and make disciples of all the nations, baptizing them in the name of the Father and the Son and the Holy Spirit, teaching them to observe all that I commanded you; and lo, I am with you always, even to the end of the age."
Matthew 28:18-20 NASB
 Practical Christian Leadership Development materials are part of the vision to accomplish what Jesus has clearly mandated; to make disciples. The ministry of CRU has put together a broad range of resources supplied by experienced, hands-on, tested and proven guidelines, into a Blueprint to help fulfill what Jesus commanded over 2,000 years ago.
The following link will take you to the CRU website's 'Adult Discipleship Resources', which outline a Blueprint for encouraging the spiritual maturity of all adult believers. Here you will see the following areas of discipleship:
Pre-Evangelism
Evangelism
Christian Foundations
Christ-Centered Living
Ministry Development
These resources are provided free of charge, only to encourage us to fulfill what Jesus Christ has clearly asked us to do. The link can be found here or here. We encourage you to share this material with your Pastor and other ministry leaders to see how it may be used within your church and/or ministry.
As you will see, Joe Ferrini's passion within this Blueprint under the section 'Leadership Development' has been to make us the "Radical Revolutionary, Dedicated Disciple" that Jesus wants us to be!
Go, and make disciples.