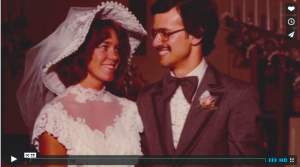 Joe and Cindi's Story On Video … Watch Here or Click Image!
"I've known Cindi and Joe for a long time, but didn't know their love story until we filmed. What a fun and inspiring love story it is! I've seen the legacy that they are building, but it was a delight to find out how it all began for them. Enjoy!" (Kurt Maechner)
If you would like to consider capturing an important story in your life, contact maechner@sbcglobal.net, call 440-225-1868, or see more of his work on Vimeo or kurtmaechnervideography.com.