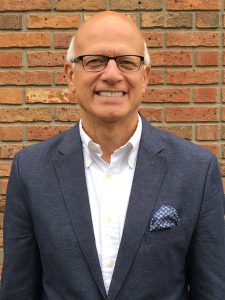 Joseph  P. Ferrini, DDS
e-mail: JPFCMF (at) sbcglobal.net
Joe started a General Dental Practice in 1978 located in  Middleburg Heights, OH (10 miles south of Cleveland). It was a preventive  family practice with special interests in restorative and cosmetic dentistry  and the treatment of temporo-mandibular joint dysfunction.  Joe sold his practice in 2006 and now works part-time as an independent contractor in the practice he started. Joe now serves in full-time ministry with his wife, Cindi, with the ministry of Campus  Crusade for Christ.
MISSION  STATEMENT:

To be involved in developing  a movement of spirit-filled individuals who are committed to God's Word and  actively involved in fulfilling God's Great Commission.
PERSONAL
Born 4/8/53
Married to Cynthia M. (Chmelik)  Ferrini (`79)
Three children: Joey (`81),  Kristina (`84), Kathleen (`89)
EDUCATION
Bachelor of Science in Biology from  Baldwin-Wallace College, Berea, OH
Graduated Magna Cum Laude, minor  in Chemistry and History, 1975
Doctor of Dental Surgery from  Ohio State University School of Dentistry in 1978
Graduate course work in  Ortho-Gnathological Occlusion and Oral Rehabilitation, 1984-1985. This course  was an advanced study regarding the principles of occlusion, the treatment of  temporo-mandibular joint dysfunction and management of myo-facial pain  utilizing splint therapy and the gnathological principles of equilibration and  full mouth rehabilitation.
MEMBERSHIPS
Associate Staff member with  Campus Crusade for Christ since 1989.
Member of Grace Christian and  Missionary Alliance, Middleburg Heights, OH-since 1978
He and his wife have been on the  National Speaker Team for FamilyLife Ministry since 2000.
City Director for Campus Crusade  for Christ for Cleveland and Northeast Ohio.
National Board of Directors for  the Medical Ministry of Campus Crusade for Christ
Faculty member for the Medical  Ministry of Campus Crusade for Christ
Speaker for the Disciple-Making  Seminar.
Member of the US Cities Learning  Lab for Campus Crusade for Christ.
Member of the US Cities Team for  Campus Crusade for Christ.
PAST MEMBERSHIPS include:
The Academy of Dentistry for the  Handicapped;
Academy of General Dentistry;
Consultant to several Nursing  Homes,
Christian Business Men's  Committee,
Dental Advisory Committee for  Polaris Vocational School,
Senior Advisory Board member at  Normandy High School.
President of Student Council,  Thomas Jefferson Junior High School
The American Dental Association,  Ohio Dental Association, Cleveland Dental Society for 30 years; 1978-2008.
Consultant staff member of  Southwest General Health Center, Cleveland, OH
Ohio State University School of  Dentistry Alumni Association
Member of Delta Sigma Delta  Dental Fraternity
Member of the Cleveland Advisory  Council for the Christian Medical and Dental Associations in Northeast Ohio
Board of Directors for the School  of Ministry, Cleveland, OH.
Past faculty member for The  School of Ministry Training, Cleveland, OH
Director of the Discipleship  Ministry at Grace Church
Director of the Lighthouse of  Prayer Ministry at Grace Church.
PAST INVOLVEMENTS include being  a member of the Executive Committee (working as a member of the Counseling and  Follow-up Committee) of the 1994 Northeast Ohio Billy Graham Crusade, and was  the Material Coordinator for the entire Crusade; Congregational leader for  Grace Church during the Billy Graham Crusade.   Joe was the Chairman of the Follow-up Committee of Peter Lowe success seminar  in 1996. He was also the co-Follow-up director for the Legacy conference, 1999  and 2001.  He was the Area Director of  the Jesus Video Project.  Involved with  Mission America, initiated the creation of Mission Cleveland and Mission Ohio. He  was part of the Neighborhood Watch committee and served as a block  captain.  He started and served as the City  Ministry Director and part of the City Ministry Team for the FamilyLife  Ministry of Cleveland/Northeast Ohio. Joe was also a member of the Board of Elders at  Grace CMA Church for many years.
AWARDS
October 2011 – Dr. and Mrs. Ferrini inducted into the NORMANDY HIGH  SCHOOL Distinguished Achievement Hall of Fame.
Received Alumni Merit Award from  Baldwin Wallace College 1998 recognized for "his exemplary career in dentistry  and his dedication to promoting the Christian faith through his work in the  community."
Selected as one of the  Outstanding Young Men of America, 1981
Included in the Who's Who in the  Midwest, 1984
Who's Who of the Emerging  Leaders in America, 1989
International Who's Who of  Entrepreneurs
Man of the year, 1978 – Delta  Sigma Delta Dental Fraternity
Dayton C. Miller Honorary  Society for Academics, 1975
Recipient of the Outstanding  Athlete Award;
Cleveland West Side District  Hurdling Champion;
Letters in track, basketball,  and football (high school)
Participated (and Finalist) in  Junior Olympics hurdles competition, 1968
PRESENTATIONS/LECTURER
            The  following are just a few of the presentations that Joe has given:
Southwest General Health Center  Dental Study Group
Oral Health presentation for  several elementary schools
Medical Strategic Network  Ministry, San Bernadino, CA and Chicago, IL, Phoenix, AZ
Leadership Training Conference  for the staff of Youth for Christ, Lake Chautauqua, NY, 1979
Christian Business Men's  Committee, Cleveland, OH
Here's Life, America, Wheaton  College, Chicago, IL
Guest Lecturer at the University  of Riga, School of Dentistry, Riga, Latvia
Sunday School Teacher; Guest  Lecturer at several churches for Sunday morning services
TBN television interview, 1993
Several Radio interviews; Pause  for Prayer Team substitute on WCRF
Featured in a video production  by Campus Crusade for Christ presenting the Northeast Ohio Disciple-Making  Ministry to the International Staff of Campus Crusade (shown nationally on TBN)
Participant in presenting  Disciple-Making Seminars since 1988 throughout Northeast Ohio and nationally.
Disciple Making Seminar- Sept.  '94 Endorsed and sponsored by Billy Graham Ministry after the Cleveland Billy  Graham Crusade
Key note speaker for National  Disciple-Making Seminar in San Bernadino, CA and Scottsdale, AZ
Prayer Participant, National Day  of Prayer-Strongsville, OH
Seminar Presentation at Staff  Training Conference 1997, 1999 Campus Crusade for Christ
Directed City Reaching Forum Symposium  in Mar del Plata, Argentina in the context of the Seventh Annual Harvest  Evangelism International Institute, Nov, 1997.
Alive Festival 2000 Canal  Fulton, OH, seminar presenter.
Spoken throughout the country at  FamilyLife Weekend to Remember marriage conferences.
EXTRACURRICULAR ACTIVITIES
He started and continues to be  involved developing spiritual leaders through his training entitled "R2D2 for  Jesus" ministry.
He has been involved in  City-Reaching and spiritual transformation of cities since the mid-1980's by  helping to develop collaborative ministry initiatives by developing strategic alliances  across Cleveland and Northeast Ohio, the US and the world.
Member of National Speaker Team  for FamilyLife Ministry
He maintains a very busy  schedule through his involvement in the lives of those that he has discipled  through the "R2D2 for Jesus" ministry.   He has many ongoing discipleship/accountability contacts.
AVOCATIONS
Studying the Bible; teaching and  helping others to become established and equipped in their Christian faith. I  enjoy walking with my wife, and traveling, but most importantly, spending time  with my family.
OCCUPATION
Independent Contractor dentist  at the practice he started in 1978.  The  practice is located at 18660 Bagley Road, Suite 304, Middleburg Hts., Ohio  44130. Phone: 440-234-2445.