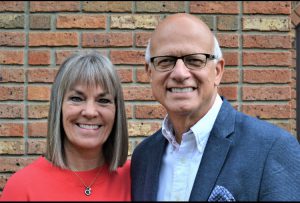 Joe and Cindi Ferrini
Creative Management Fundamentals
www.joeferrini.com
jpfcmf(at)sbcglobal.net
Personal
Resides in the Cleveland, Ohio area (since birth)
Married 1979
Three grown children (a son with special needs at home; one married daughter [two grandsons]; one daughter recently graduated from college)
Professional and Volunteer Opportunities
Cindi taught high school home economics for 5 years, later founded Creative Management Fundamentals, a time/life management seminar, biblically based (1988) – speaking, writing, mentoring, coaching
Joe retired from dentistry after 41 year on 6/29/19
Local School System
Involved with the many activities of their three children
Served on local PTAs
Served on special education task force committees, district goal planning committees; participated in helping choose personnel to fill key positions in the district (principal, special education department head, etc.)
Local Neighborhood and Church Ministry
Led numerous Bible studies, taught Adult Bible Fellowships (Sunday classes)
Cindi speakers for mom's groups, studies, outreaches, fellowship groups, etc./Joe speaks for men's groups on discipleship, leadership, etc. and together on special needs and marriage – locally and nationally.
Grace Christian and Missionary Alliance Church in Middleburg Heights, OH
Have attended since 1977 (baptized, members, married, dedicated children, one daughter married there)
Taught numerous adult classes – serving as needed.
Joe – elder for many years, not presently serving in that capacity
CRU – formerly Campus Crusade for Christ – Self Supported Staff (in the Northeast Ohio area since 1989)
Personal one-on-one and small-group discipleship (since 1978)
Mentoring (since 1978)
City Reaching (since 1978)
Billy Graham Crusade
Helped bring it to Cleveland in 1994
Served as trained counselors, supervisors, and leaders
Responsible for the direction of distributing over 32,000 pieces of material to inquirers that came forward throughout the crusade
The Billy Graham Association asked us to establish follow-up in the NE Ohio area because of the discipleship ministry we already had in place
FamilyLife
City Ministry directors for Weekend to Remember Conferences in Cleveland (NE Ohio) from 1990-2001 with expansion to Akron in 2000 and an Urban Familylife Conference in Youngstown, OH, in October of 2001
Presently speak nationally for the Familylife "Weekend to Remember Marriage" Get-A-Ways
Promise Keepers (and in 2008) – leadership roles; created the first official PK follow up strategy
Just Give Me Jesus – Anne Graham Lotz – leadership roles
I Still Do (FamilyLife) – leadership roles
Woman of Faith – radio broadcasting for Cindi
Speaking Experience
CRU –  formerly Campus Crusade for Christ
Staff training – breakout session speakers
Regional meetings
Conferences (other than Familylife)
Familylife Weekend to Remember
Elmbrook Church (formerly pastored by Pastor Stuart and Jill Briscoe)
Women Anew (Columbus and Sandusky, OH), numerous years conducting mini-sessions for 400 woman; 2010 closing Keynote speaker
Ohio Christian Education Conference (Akron, OH), numerous years as Keynote speaker for break-out sessions
Church Conferences and retreats
Christian organizations
Businesses
Libraries
In-service programs for schools
Each of the above: locally and around the country, too numerous to individually mention
Media Experience and Opportunities
Making a Difference – Cindi hosted a Christian radio program (one-hour talk program), interviewing men and women who made a difference in their home, church, community, or work while living out their Christian walk (1995)
WCRF – locally (103.3 FM) in Northeast Ohio of the Moody Broadcasting Network (MBN)
Monday Morning: MARRIAGE MATTERS: heard 6:05 & 8:05 a.m. each Monday – Joe and Cindi share a fun, fast, and informative 5 minutes with host Mark Zimmerman on one marriage topic for the day!
Pause for Prayer (from 1999 until present) is a 2-minute prayer segment which airs 3 times each day. Prayer topics include
The Church – revival, world evangelization, prayer, etc.
The World – leaders, nations, the lost, etc.
Our Nation – executive, legislative, and judicial branches of government (including specific actions, bills or cases in a nonpolitical framework), issues, etc.
State and Local – governor, mayors, law enforcements, education, etc.
Current Issues – abortion, crime, drug abuse, education, school violence, secular humanism, homosexuality, pornography, prisons, terrorism, city and ministry outreaches etc.
Cindi coordinates the group of contributors (each write and record their own copy and are given a week per month air time) and participates in the daily devotional/prayer segment as a contributor as well.  Joe participates as a contributor as well.
WOMEN OF FAITH  Cindi co-hosted the live airing at the Gund Arena
LEGACY Conferences (two) at Blossom Music Festival – Cindi co-hosted the live airing
I STILL DO (Familylife) at the Quickens Loan Arena formerly the Gund Arena
Cindi Co-hosted the live airing of these outreaches for WCRF, interviewing speakers, conferees, etc.
INTERVIEWS
Interviewed locally on WCRF (Moody) of NE Ohio numerous times for various outreaches, conferences, ministry or book updates by Mark Zimmerman and Jan Markowitz
Interviewed on numerous radio stations around the country over the past 20+ years
MOODY RADIO – NATIONAL
FOCUS ON THE FAMILY –aired June, 2012 – UNEXPECTED JOURNEY. http://www.focusonthefamily.com/Radio.aspx?ID=%7BC7A36AEF-A1FC-49CB-ADF8-1FF880D43343%7D
Midday Connection – Cindi was a guest of both Wayne Shepherd and Anita Lustrea
FamilyLife This Week Cindi :"What My Mother Did Right" on motherhood, broadcasts on making hospitality and the Christmas season less stressful. Cindi and Joe: "life" lessons they have learned as a result of their son Joey's special needs/disabilities
FamilyLife Today – 3 days of programming called Unexpected Journey from their book (2/09) UNEXPECTED JOURNEY – WHEN SPECIAL NEEDS CHANGE OUR COURSE – interviewed by Dennis Rainey and Bob Lepine
Online Broadcasts:
Start Your Family: Becoming Parents of a Special Needs Child:
http://www.startyourfamily.com/2009/05/becoming-parents-of-a-special-needs-child.html
Need Project: – UNEXPECTED JOURNEY: (Ministry NEED PROJECT)
http://www.needproject.org/casts/podcast1033.mp3
Television
The      Morning Exchange      – included quarterly appearances as a guest on this popular (former) local      Cleveland      television program
Christian television programming – various local opportunities
Publications
Alliance Life Magazine (for the Christian and Missionary Alliance), article "Balancing the Active Life"
Familylife – Online article "When Life Gets Tough-er" (caring for loved ones with Alzheimer's)
Focus on the Family
Balancing the Active Life – an interactive Bible study for anyone of any age – the goal of this 13-week study is to challenge and encourage the participant to prioritize the activities they believe are the most important in their life, with Christ being the center and the focus of all that they do. (Cindi)
Get it Together – an organizational planner (Cindi)
'Tis the Season – a Christmas planner to keep the holiday less stressful and more meaningful (Cindi)
Unexpected Journey, When Special Needs Change Our Course – The Ferrinis share their journey of caring for their son with special needs and their parents with Alzheimer's. (Joe and Cindi)
Pause for Prayer – a devotional
Love ALL-Ways: Embracing Marriage on the Special Needs Journey.
Awards and Memberships
Cindi was named by The Christian and Missionary Alliance as one of the 2001 Laypersons of the Year for "ways she has shown Christ's love."
Cindi was recognized by Familylife in 2004 with the "Extra Mile Award" presented to the speaker who goes the "extra mile" at Weekend to Remember conferences around the country to foster the sense of accomplishment (or achievement) in conference teams.
Member of Advanced Writers and Speakers Association (Cindi)
The Inaugural Kingdom-Class Leadership Award (presented to Dr. and Mrs. Ferrini), was given by Fellowship of Christian Athletes of NE Ohio for contributions made locally, nationally, and internationally in ministry (May 6, 2010).
October 2011 – Dr. and Mrs. Ferrini inducted into the NORMANDY HIGH SCHOOL Distinguished Achievement Hall of Fame.
Joe and Cindi write as a part of the blog team for Not Alone (www.not-along.org) awarded the Favorite Special Needs Parenting Blog 2013 by About.com in March 2013.
Joe and Cindi are available for…
 Conferences
 Retreats
Luncheon/Banquet Speaker
Special Events
Radio and Television Interviews
School In-Service Meetings
Presentation to Business Employees
Fundraising Events