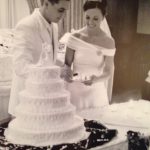 It was very time consuming. It was designed, cut out, marked, and sewed with delicate precision and it was a labor of love. It was my daughter's wedding gown.
While I've sewn many projects over the years, including my own wedding gown, making my daughters' was probably the finest item I've ever had the pleasure of creating and sewing. I was meticulous. I didn't want to make any mistakes. I wanted it to be perfect. I made sure every seam was finished. Each of the 37 button loops fit perfectly over the silk buttons sewn on by hand. Hand stitches on other parts of the dress were so delicate you couldn't see them.
The inside was constructed as detailed and beautifully as the outside. I tried, just for fun to keep track of how many hours I worked on it. It took about 150 hours to the point that all I had left was the hem. The final work required approximately 2000 inches of hand turning the delicate and individual 6 layers of fabric to a tiny 1/8" rolled hem. I felt it might get monotonous. It was at this point I asked myself, "What if I took a short cut here? What if I all of a sudden didn't care about the final detail because I just wanted to get it done? What if I felt it would just be too much work and effort!?" Wanting to finish well what I had started, I prayed through the parts that were tedious until I could say it was completed with excellence!
Such is my/our Christian walk. We can all be meticulous – doing a very good job in loving and serving the Lord, but how will we end up when things get tiresome or maybe even a bit uninteresting, unadventurous, or even boring? It might be in my job, my marriage, or at church? I'm watching a few relationships fail as I stand in amazement at foolish and unwise choices being made – choices that affect an individual and the ripple effect to family, friends, and even people in the church. It causes me to ask myself, "How will I finish what the Lord has started in me?"
Just like with the dress, when it comes to the final touches, I want the final years of my being to be ones that continue with excellence, serve in obedience, and have prayed my way through it all – the fun parts and the tedious parts! I want to finish what was started….with excellence.
What's YOUR plan to finish with excellence?