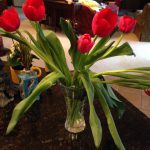 These flowers were given to my daughter by her boyfriend. Did she love the gesture or tell him never to do that again because it's not practical and a waste of money? She responded like most women do! She loved it!
Years ago my mom repeatedly said to my dad and us kids, "I'd rather people give me flowers while I'm alive so I know I'm loved and appreciated…not just something sent to a funeral home after my death." It didn't matter if it was a dandelion, a fresh bouquet, or an arrangement. She loved flowers and the thought behind it.
Dad, not necessarily a romantic, went to a nearby florist and said to the owner, "Every week I want to send my wife flowers. You choose the arrangement or bouquet and bill me – every week." This went on for years. Over 25 years if my memory serves me correctly. Mom loved every expression of love through those flowers.
Somewhere along the way, my husband Joe started doing that. I'm not sure of the exact time, but each week, when he does our grocery shopping, he brings me flowers. I never take them for granted. I don't tell him to stop bringing them because it's a waste of money. I love the thought, and though we're not particularly "romantics" I do think it's very romantic!
Practically speaking, it's a waste of money to buy flowers that will wither and die and be thrown away; but the practiced gesture is never wasted and lives on in our thoughts and memories. Practically speaking, sometime a single flower is just as special as a huge bouquet. As I consider different scenarios of people I know receiving flowers, I can't think of one who didn't appreciate it and love the gesture.
Joe shares, when we speak on the topic of marriage, of a local florist who said that many of his best customers are men who buy flowers every week for years-then vanish forever. The problem: they get married.
Many of the things we practice along life's way may or may not be practical. It's just a good reminder, that while we can go through life being practical about money, gifts, time, etc. it's never a waste of money when we practice things that are enjoyed and appreciated.
Getting my vase ready…….right next to the one my daughter will have ready!