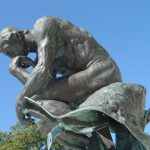 Most of the time, I recognize that remaining anonymous is not the right thing to do. Feelings can be hurt when we write things to others and we don't own up to our part in whatever the situation. I've even known of people to have lost their job when anonymity was revealed. Of course, that wasn't their plan. That lesson (which I learned early in life) has stuck with me for many years and has kept me from ever writing something without signing my name. The only times I've chosen to write anonymously, have been times I do something charitable and would prefer not to be "known". By remaining anonymous in this type of situation we're able to serve and know that Jesus alone gets the credit. Secrets aren't good to keep unless we keep the secret for God to get the glory and the credit.
It's often tempting to want to be in the limelight or get the credit for doing a good deed for someone. God alone will choose to use each person to bless others especially when we consider others more important than ourselves.  May what we give, how we act and respond, and how we treat others be a reflection of our love and service to God.
It's important not to let our blind spots get the best of us in wanting to sneak a peek at how good or kind we think we are, when we really know that without God we are nothing but a puff of wind. Serving in secret is what benefits His name. When we use the gifts, talents, skills, and resources that God has given each of us without needing the attention, accolades, and credit, is the way we will in turn be able to bless others….and we ourselves will also be blessed. It's a humble action to remain quiet in serving so that we don't allow ourselves to get in the way of what God might accomplish.
The next time we choose to do something in secret, let's evaluate and think if we're serving or tempted to hide behind an anonymous note.